ABOUT PPI
PPI has grown significantly from its origins as a product group in the BFGoodrich Commercial Products (BFG) plant in Kitchener, Ontario. This is where Railseal was developed, with the first installation going into service in Hamilton, Ontario in 1976. The Railseal product line evolved when a group of BFG employees, headed by the Product VP Gordon Steel, founded PPI. Sales grew to $10.0 million CAD in 2001/2002 as PPI undertook contracts to supply Class 1 railways such as CSX, as well as large manufacturers such as Anheuser-Busch and others who have a mixture of truck and rail traffic on-site. Port authorities, where mobile cranes load and unload trucks, ships, and trains for import and export, use specialized designs of PPI's Railseal product. With the growth of express trains and light rail transit (LRT) systems, PPI continues to expand its product line to meet the needs of these sectors. They have become important markets for PPI, which has supplied products for installations throughout North America, including Dallas, Denver, San Diego, Los Angeles, Portland, Boston, New Jersey and Toronto.
With maturation and diversification of the market for Railseal, BRI Holdings Inc. acquired PPI in 2010. With over 20 years of experience in working with our clients from our location in Cambridge, Ontario, PPI continues to supply our loyal customers and contractors throughout North America and abroad.
Currently, PPI is expanding our line of customized extruded products using state-of-the-art designs and robust manufacturing technology. With our strong ties to material suppliers giving us access to the latest material developments and access to rubber technology in many industrial sectors, PPI owns and maintains our own formulations, leveraging our capabilities to deliver quality products on time and at the best possible price to our customers. Our flexible scheduling and fast response times minimize delays in delivering our products, allowing PPI to either ship from inventory or from custom production runs.
Rail Products
The foundation of our business has been built on rail seal products. With decades of experience, we manufacture and supply rail seal and other solutions to the Class 1 rail companies and their 3rd party contractors, along with other rail industry providers. We boast not only a large supply of existing dies and templates but also the ability to provide custom solutions for even the most difficult of applications.
Fenders & Bumpers
We provide rubber bumpers and fenders to both the marine and trucking industries. Our customers range from government agencies to public and private entities. Offering multiple types of rubber and utilizing a library of existing profiles and the ability to produce custom solutions, we have a solution for any situation. We also provide mounting hardware at the customer's request.
Snow Plow Blades
Selling to many of the major plow manufacturers, different grades of polymer along with multiple sizes gives our customers the snow blade options they need. We also cut and hole-punch to customer specific drawings. Whether you find an existing profile suitable or if we need to design a custom solution, you will have the exact product you require.
Custom Rubber Extrusions
We produce a wide variety of rubber extrusions to service a multitude of applications. Our engineering team will work with you to design the exact part required and determine the best rubber compound for the job. We work as a team to help guide your supply needs and customer demands.
OUR TEAM
PPI knows that our true strength is our people. We strive to create a culture of engagement, empowerment, growth, pride and accountability.
For our employees, it is more than just a job.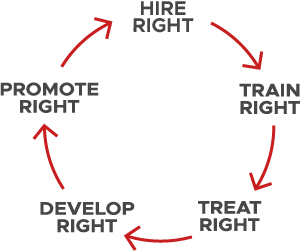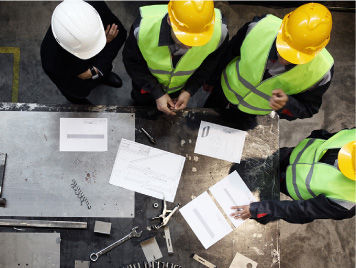 SAFETY
At PPI, we take safety seriously. Everything from potential hazards to staff strains are routinely addressed. Our ergonomically designed facility ensures that our crew are not strained performing routine tasks. The logical flow of goods from raw materials, to partially finished goods, to finished products do not interfere with each other, allowing each workstation to be always kept tidy. Our production crews always work in pairs, reviewing each others' work, to ensure everyone follows the proper procedures and safety guidelines. Combined with maintenance schedules that exceed industry and government minimum standards, we can catch any accidents before they occur. In 2019, we celebrated our entrance into the